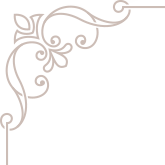 Weather forecast for San Candido and Val Pusteria

Today: Quite sunny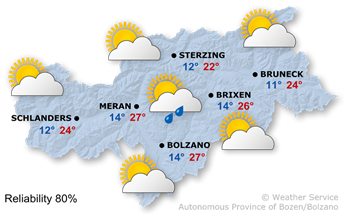 In the morning some residual clouds, then sunny. In the afternoon, local rain showers are possible from the cumulus clouds. Maximum temperatures between 22° and 27°.
---
Tomorrow: Sun and cumuliform clouds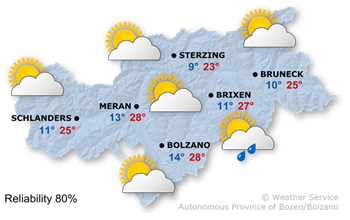 Also on Thursday there will be a mix of sun, cumuliform clouds and local thunderstorms. Maximum temperatures from 22° to 28°.
---
Next days Weather forecasts: Sunny with local thunderstorms
On Friday, the weather situation will not change: quite sunny and warm, but not entirely stable. Saturday widespread sunshine in the morning, in the afternoon the tendency for thunderstorms will increase. Sunday more clouds and rain showers especially in the second half of the day. Temperatures will drop by a few degrees. Monday still changeable with sun, clouds and thundery showers.